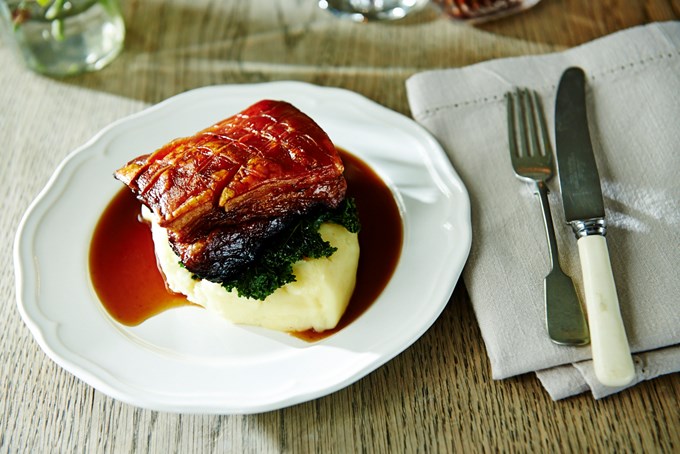 Posted: 18/03/2018
---
Soft tender Wicks Manor pork belly with crispy crackling served with creamy velvety mash and apple sauce.
Ingredients
For the pork belly
4 kg Wicks Manor pork belly, skin scored
Handful of sage, washed and chopped
2 tsp sea salt
3 garlic cloves, chopped
Vegetable oil, for drizzling
1 carrot, peeled and chopped
½ leek, chopped
1 white onion, peeled and chopped 
For the mash
2kg floury potatoes
125ml whole milk
100ml double cream
150g butter
Sea salt and black pepper to season


Preheat the oven to 220C/400F/Gas 6 for 10 minutes. Score the skin across the pork belly and season both sides with sea salt and pepper. Underneath place the chopped sage and garlic. Roll up the belly with the skin on the outside and tie together securely with string.
To guarantee crisp crackling place on a wire rack over the sink and gently pour boiling water over the skin. Pat dry and rub with vegetable oil and a generous amount of salt.


Place on a roasting tray and roast for 45 minutes or until the skin is golden brown and crackled.
Turn the oven down to 160C/325F/Gas 3 and cook slowly 1 hour.
Remove the roasting tray from the oven, add the vegetables to the tray and mix with the meat juices and fat from the pork.
Cook for another 50 minutes and then leave to sit for 10 to 15 minutes before carving.
Meanwhile, place the potatoes in cold water in a saucepan, add a little salt and bring to the boil. Simmer for 15 to 20 minutes until well cooked, then strain.
In a separate pan bring the milk, cream and butter to the boil. Remove from the heat and add to the boiled potatoes. Mash together and season.
We recommended serving with gravy made from the meat juices and homemade bramley apple sauce. For more delicious recipes click here.
---
Share this post:
---